The purpose of this website is to develop a broader public awareness of polychromy studies. By using this online service you will be able to gain knowledge of the current research on polychromy at the Ny Carlsberg Glyptotek. It is a resource dedicated to research on the use of colour on sculptures and buildings in the ancient Mediterranean world.
On this website you will find an introduction to the field. It also provides information on the history of polychromy scholarship and updated information on current research. The user has access to a database of literature on ancient polychromy and of monuments known to have traces of their original colouring.
Read more here: About
Transmission and Transformation: Ancient polychromy in an architectural context
The three-year research project is running until the end of 2016. The project is funded by the Carlsberg Foundation.
White marble has generally been considered a typical image of antiquity. However, the lack of colour has no relation to ancient aesthetics. In fact, antiquity cultivated a veritable wealth of colours, but after centuries of deterioration, very little paint remains on the artefacts giving rise to the mistaken notion of white marble as a classical ideal. Yet the knowledge that ancient art was polychrome does not mark the end of polychromy research. On the contrary: Now research of ancient polychromy can continue acquiring a more comprehensive and detailed knowledge of how the ancient world was coloured and why. Besides the identification of pigments, this entails knowledge of e.g. technique, craftsmanship, and craft traditions. Postdoctoral fellow Cecilie Brøns is therefore heading up a new research project with a new grant from the Carlsberg Foundation – this time focusing on the colours of ancient architecture. The project is highly interdisciplinary including scholars in archaeology, philology, conservation science, geology, chemistry, and physics. It has its point of departure in the collections of the Ny Carlsberg Glyptotek and focuses among other things on Etruscan architectural terracottas and the synthetic pigment Egyptian blue.
Click here for the description of the project on the Carlsberg Foundation's homepage.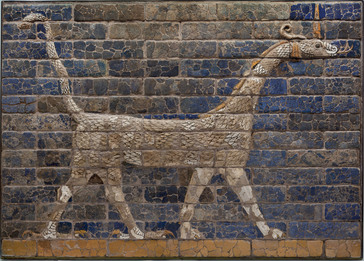 Guest lecture at the Danish Institute at Athens
Dr. Cecilie Brøns and Signe Skriver Hedegaard have been invited to give a lecture on polychromy research at the Danish Institute at Athens. The lecture is entitled 'Transmission and Transformation: Ancient Polychromy in Sculpture and Architecture'. It will take place Monday the 23rd of May at 7 PM in the auditorium of the institute, Herefondos 14A, Plaka, Athens.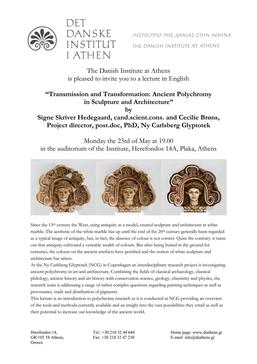 Like us on Facebook and receive updates
Tracking Colour is on Facebook! Find us and like us, and you will receive news and updates from the ongoing research.