White marble has generally been considered a typical image of antiquity. However, the lack of colour has no relation to ancient aesthetics. In fact, antiquity cultivated a veritable wealth of colours, but after centuries of deterioration, very little paint remains on the artefacts giving rise to the mistaken notion of white marble as a classical ideal.
Yet the knowledge that ancient art was polychrome does not mark the end of polychromy research. On the contrary: Now research of ancient polychromy can continue acquiring a more comprehensive and detailed knowledge of how the ancient world was coloured and why.
This website is dedicated to the research on the use of colour on sculptures and buildings in the ancient Mediterranean world carried out at the Ny Carlsberg Glyptotek. This research is highly interdisciplinary including scholars in archaeology, philology, conservation science, geology, geochemistry, chemistry, and physics.
On this website you will find a short introduction to the field. But most importantly, the user has access to a database of literature on ancient polychromy and of artefacts in the collections of the Ny Carlsberg Glyptotek with traces of their original colouring.
New project: Sensing the Ancient World: The Multiple Dimensions of Ancient Art
The Carlsberg Foundation has generously funded a new interdisciplinary research project entitled Sensing the Ancient World: The Multiple Dimensions of Ancient Art. The project is being led by Dr. Cecilie Brøns and will run until 2021. In collaboration with Danish and international partners, the project is undertaking thorough investigations of the polychromy of ancient artworks using multispectral techniques and different natural scientific analyses. In addition, the project includes further, often invisible dimensions of ancient art such as the effect of light and the embellishment with textiles, ornaments, and flowers. By including the often inaccessible dimensions of antiquity, the research project aims to achieve a new, more inclusive, holistic understanding of the art of antiquity, starting in the collections of the Ny Carlsberg Glyptotek.
For more information about the project, please click here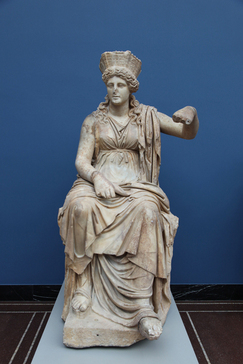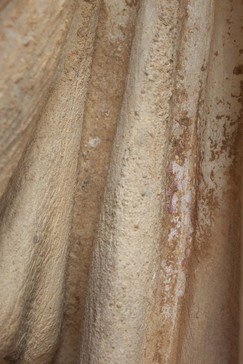 Job announcement: Conservator or Conservation Scientist Specialising in Ancient Polychromy
The Ny Carlsberg Glyptotek is looking for a conservator or conservation scientist to contribute to the museum's research into ancient polychromy. This is a fixed-term (1½-year) contract position.
About the job
This is a multifaceted, fascinating position in one of the oldest art museums in Copenhagen with a unique collection of ancient sculpture. You will be part of the museum's interdisciplinary research project, which studies ancient polychromy: the paint on ancient art and architecture.
For more than 15 years, the Ny Carlsberg Glyptotek has been conducting research into ancient polychromy at the highest international level. The museum launched this major venture with the Tracking Colour project (2008-2013), and the subsequent Transmission and Transformation project (2014-2017). These were followed by the current project: Sensing the Ancient World: The Invisible Dimensions of Ancient Art (2018 – 2021).
Your field of work will involve investigating and documenting the original paint (polychromy) on selected works in the Glyptotek's collections.
Responsibilities
Your primary task will be to conduct investigations of the polychromy on ancient artefacts in the museum (primarily Greco-Roman marble sculptures). Such investigations will mainly involve non-invasive analyses, such as microscope studies, Visible Induced Luminescence (VIL), UV-Fl and hXRF, but will also include the taking of samples for the analysis of cross-section paint layers etc.
Much of the work will take place independently but in close dialogue with the Project Manager Classical Archaeologist PhD Cecilie Brøns. Previous experience of working with the above mentioned methods is an advantage, but there will be an onboarding phase, during which the candidate can familiarise her/himself with the methods. Other necessary analyses will be conducted by the project's external collaborators at universities and museums in Denmark, Europe and the United States. Consequently, you will work together with a variety of experts, including archaeologists, conservators, chemists, physicists, geologists and geochemists.
You will be expected to write a report on each work you have investigated, and the results of the analyses will be documented and interpreted in collaboration with the Project Manager.
You will also be expected to contribute to publication of the research results on the highest international level, and to enhance the museum's international research profile by attending selected conferences and participating in research networks.
Finally, your responsibilities will include digital reconstructions of a selection of the works studied. This will be done in close collaboration with the Project Manager and a graphic designer.
Qualifications
• MSc in Conservation Studies or similar. Relevant documented experience is necessary.
• Ability to work well independently, to organise your own tasks and to meet deadlines.
• Ability to collaborate across disciplines: for example, with archaeologists, conservators, photographers, chemists, geologists and physicists.
• Proficiency in both written and spoken English at academic level.
Desirable:
• Experience in the field of ancient polychromy, preferably in a museum context.
• Experience with non-invasive analytical methods such as VIL, UV-Fl, hXRF, FTIR and Raman spectroscopy is an advantage.
• Experience with Photoshop.
Salary and Terms & Conditions of Employment
The working week is 37 hours. This is a fixed-term (1½-year) contract position.
The salary and terms & conditions of employment are in accordance with the current national collective agreement for academics in the state sector
Place of work: Tietgensgade 25, DK-1556 Copenhagen V.
We wish to appoint the new conservator from 15 January 2021 or shortly thereafter.
Application
Please submit your letter of application, CV, proof of education, at least one and up to three letters of reference from former employers as well as any additional relevant attachments by midnight on Friday 6 November 2020.
Please email your application to: job@glyptoteket.dk. Write 'Member of Staff for Ancient Polychromy' in the subject line.
Would you like to find out more?
If you have any questions about the job, feel free to contact Cecilie Brøns (Senior Researcher):
Email: cebr@glyptoteket.dk
Phone: Monday to Friday between 2.00 and 3.00 pm at (+45) 3341 8143.
New examination of ancient Roman sculpture undertaken
Currently, Signe Buccarella Hedegaard is working on a marble sculpture of the goddess Cybele dating to the 1st-century BC. The original context of the sculpture was allegedly a private sanctuary dedicated to Cybele in connection with a private villa, which was placed a few kilometers outside Formiae in Campania. By thoroughly photographing the sculpture using multispectral techniques and microscopy, minute traces of paint are identified and documented.